When creating the Pasadena International Film Festival, I reached out to Eugene, and he stepped up with advice and support. Eugene possesses intelligence, work ethic, and a generosity of spirit that is rare. We have always been impressed with his knowledge and expertise, as well as his kindness.
-- Jessica Hardin, Executive Director
Pasadena International Film Festival
An informed, forward-thinking leader that gets things done.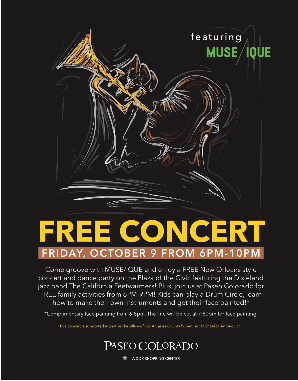 More quotes from reviews and testimonials about Eugene. Click here.
FREE/FOR ALL produced by MUSE/IQUE
Photos by Ben Gibbs
Los Angeles
Master Chorale
More than 25 years of professional experience working in a variety of professional arts organizations.
Some Highlights:
Over ten years of project and program management experience directing the full-cycle development of live stage productions and special events across the country in venues from 99 seats black box spaces to 2,000+ performing arts centers in urban, suburban, and rural settings and led teams of up to 10 direct-reports.

More than $1.9M in grants secured from foundations, corporations, and government agencies.

Managed community engagement programming including a twice-a-year free concert series that grew from 924 in Fall 2013 to 3,225 in Fall 2015 representing a 249% increase.

Initiated and implemented a volunteer and internship program that resulted in more than 300 volunteers and interns performing 2,140 hours of service to the organization

Developed communications and promotional strategies that resulted in coverage by print, TV, and web media.